7 EMPLOYMENT LAWS YOU SHOULD PROBABLY KNOW
There a few employments laws that every employer and employee should know.  As a business owner, you need to know how various employment laws impact your employments policies and procedures.  As an employee, it is helpful to have a basic understanding of certain employment laws and how they affect your legal rights.  Both Federal and State employment laws regulate various areas of employment, including acceptable (and non-acceptable) interview questions to the treatment of employees in the workplace.  The following are seven (7) Federal and New York labor and employment laws that may affect your business or job.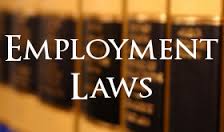 (1)    Title VII of the Civil Rights Act of 1964 ("Title VII")
prohibits discrimination on the basis of race, color, religion, sex or national origin.  Title VII applies to most employers engaged in interstate commerce with fifteen (15) or more employees.
(2)    The Family and Medical Leave Act ("FMLA") entitles eligible employees of covered employers to take unpaid leave for specified family and medical purposes.  FMLA covers employers with fifty (50) or more employees in twenty (20) or more work weeks in the current or proceeding calendar year.  Eligible employees are those who worked for the employer for at least twelve (12) months who have worked at least1,250 hours for the employer during the twelve (12) month period immediately preceding the leave.  Leave may be taken under the FMLA for the birth or adoption of a child, to care for a sick spouse, child or parent, and for a serious health condition that prevents the employee from performing his/her essential job functions.
(3)    The Americans with Disabilities Act of 1990 ("ADA") prohibits employment discrimination against qualified individuals with disabilities.  The ADA covers employers with fifteen (15) or more employees.  It applies to physical and mental impairments that substantially limits one or more major life activities.  The ADA requires the employer to provide reasonable accommodations to the qualified employee if such accommodation would not impose an "undue hardship" on the employer.
(4)    The Age Discrimination in Employment Act ("ADEA") prohibits employment discrimination based upon age (40 years and older).  The ADEA prohibits an employer from refusing to hire, firing, or otherwise discriminating against an employee age 40 or older.  It covers employers with twenty (20) or more employees.
(5)    Pregnancy Discrimination Act ("PDA") is an amendment to Title VII to prohibit discrimination on the basis of pregnancy, childbirth or of a pregnancy- related condition.  The PDA applies to all terms of employment, including, hiring, firing, promotion, leave and benefits.
(6)    New York State Human Rights Law ("NYSHRL") protects individuals from discrimination based upon their age, creed, race, color, sex, sexual orientation, national origin, marital status, disability, military status, domestic violence victim status, arrest record, conviction record, and predisposing genetic characteristics.  The NYSHRL also prohibits sexual harassment, as well as harassment on the basis of gender, race, religion, or national origin.  The NYSHRL also protects against retaliation by employers against employees for complaining of such harassment.  The NYSHRL covers employers with four (4) or more employees (less than the Federal employment law counterparts).
(7)    New York City Human Rights Law ("NYCHRL") prohibits discrimination in New York City (the 5 boroughs) on the basis of race, creed, color, age, national origin, alienage or citizenship status, gender (including gender identity and sexual harassment), sexual orientation, disability, marital/partnership status, arrest or conviction record, status as a victim of domestic violence, stalking and sex offenses, and unemployment status.  The NYCHRL applies to New York City employers with four (4) or more employees.
The New York State and City laws may vary and, in some instances, are more stringent than the Federal employment-related laws.  For example, NYSHRL and NYCHRL claims may be asserted against the individual owner of a business for discriminatory conduct, whereas a Title VII claim does not provide for individual liability.
If you have any questions or need any assistance with respect to any labor and employment-related issues, please feel free to contact us, as we would be glad to assist you.
Learn more about our employment law practice.