THREE SCHWARTZ ETTENGER ATTORNEYS HONORED AS 2023 SUPER LAWYERS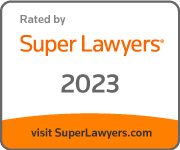 We are delighted to announce that three of our esteemed attorneys have been selected as 2023 Super Lawyers in the New York Metro Edition. This prestigious recognition highlights their exceptional legal expertise and dedication to their respective practice areas.
The following attorneys have earned this esteemed distinction:
Lee A. Schwartz, Esq. – Founding Member (Corporate Law, Real Estate Law)
Jeffrey S. Ettenger, Esq. – Member (Employment Law)
Marci S. Goldfarb, Esq. – Senior Counsel (Trusts and Estates)
Super Lawyers is a renowned publication that showcases outstanding attorneys across over 70 practice areas, recognizing their exceptional peer reputation and professional accomplishments. This comprehensive listing serves as a valuable resource for both legal professionals and consumers seeking top-tier legal representation.
Selection to the Super Lawyers list is a rigorous process involving nomination, evaluation, and selection, with absolutely no opportunity for attorneys to purchase their inclusion. The exclusive nature of Super Lawyers limits the inclusion to less than 5% of lawyers within each jurisdiction, underlining its distinction and prestige.
"We take immense pride in the recognition of our attorneys as 2023 Super Lawyers," said Lee Schwartz, Managing Partner at Schwartz Ettenger. "This achievement reaffirms our unwavering commitment to delivering unparalleled personal service and maintaining strong, enduring relationships with our clients. They often refer to us as Deal Makers, not Deal Breakers, and this acknowledgment further validates our dedication to excellence in the practice of law."