NO MORE MASKS? WHAT DO I DO NOW?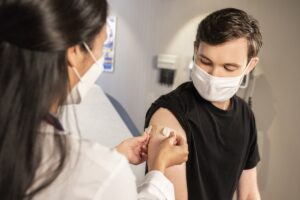 On April 3, 2020, the CDC recommended that Americans wear masks in offices, stores, restaurants and in all public places.  The adjustment for employer, employees and patrons was significant, but because it was mandated, at least in New York, most citizens complied, and it soon became the norm in society.  Last week, on May 13, 2021, the CDC radically changed its recommendations, stating that masks are no longer required for vaccinated Americans at almost all indoor and outdoor venues.  Effective May 19, 2021 New York State has adopted the CDC recommendation with no further guidance.  Though this is wonderful news for everyone, it will create new challenges for employers and business owners.
Let's start with business owners and how they handle internal employees.  Employers are permitted to ask that their employees provide proof of vaccination; this is not a privacy issue.  Employers need to have an understanding of what percentage of their staff is vaccinated to assist in making decisions about masking.  Of course, employers still have the option to require all their employees to wear masks, but expect push back from vaccinated staff.  Employers also have the option to permit only those vaccinated to go mask-less, but this could create a "culture war" within your staff.  And of course, employers can likely just permit everyone to go without masks, vaccinated or not.  The biggest issue here is that vaccinated people with unvaccinated children will be frustrated that unvaccinated employees could still expose them to Covid, that they could ultimately pass on to their kids.  So unfortunately, there really is no perfect choice.  Employers will have to make judgment calls and choose the "lesser of the evils", but unless your entire staff is vaccinated, there simply is no perfect choice.
Employers that have staff that frequently interacts with customers, such as at restaurants or retail stores, face even more difficult choices.  Previously, as much as some people objected to wearing masks, it was the law and owners and their customers were forced to comply.  Now, the rules have changed 180 degrees.  It is simply unrealistic that companies are going to seek proof of vaccination from their customers.  This will turn customers away and create instant conflict.  Thus, business owners have to assume that unvaccinated customers will come to their establishment without masks.  Unless New York State establishes rules to prohibit this, employers may have to accept that customers will be unvaccinated and also mask-less.  Customers may be more comfortable wearing masks, vaccinated or otherwise.  This is certainly appropriate, and no customer should be made to feel awkward for wearing a mask.  Lastly, in commercial settings the employer does need to ensure their employees comply with the new CDC guidelines.  If an employee will not get vaccinated, the employer can and should require them to wear masks around customers.
As with everything related to Covid-19, things move quickly and change just as fast.  Employers have to make decisions based on the facts and law of today and must be flexible enough to change when the facts and law change.  Be pragmatic, be flexible and be reasonable and more times than not, you will be making a good decision for your business.
Capacity Restrictions Lifted
In addition to new masking regulations, as of May 19, 2021, capacity restrictions in most industries will be lifted, subject to ongoing 6-foot social distancing requirements pursuant to CDC guidance. In that regard, capacity will only be limited by the space available for individuals (or permitted groups of individuals) to maintain the required social distance of 6 feet.
However, given that the CDC and NYS have advised that fully vaccinated individuals do not need to maintain social distance, businesses may eliminate the 6-foot social distancing requirements if all individuals present proof of full vaccination.
Changes in capacity notwithstanding, most existing industry-specific health and safety requirements will remain in effect, such as required health screenings, face covering requirements (for unvaccinated individuals), safety measures, collecting contact information for tracing, enhanced disinfection protocols and ventilation requirements.
Industry-specific changes for New York State
Restaurants
Indoor dining capacity in NYC is now 75%.
Seating at bars is now permitted in NYC as well, subject to applicable distancing requirements. Note that the most recent guidance does not provide for physical barriers to replace distancing requirements for bar seating.
Effective May 17, the curfew for outdoor dining is lifted.
Effective May 19, the indoor dining capacity for all of NYS, including NYC, increases to 100%.
Effective May 31, the curfew for indoor dining is lifted.
In-Person and Catered Events
Indoor event capacity has increased to 75% or 150 people, whichever is less, with proof of full vaccination or recent negative COVID-19 test result required for indoor events with 101-150 attendees.
The social gathering limit for outdoor events is 500 people, without the need for proof of full vaccination or recent negative COVID-19 test result.
Effective May 17, the curfew is lifted for events where all attendees provide proof of full vaccination or recent negative COVID-19 test result.
Effective May 19:
The social gathering limit for indoor events increases to 250 people; indoor event capacity increases to 100% capacity, up to 250 people without proof of full vaccination or a negative COVID-19 test result.
Event capacity, both indoors and outdoors, may exceed the social gathering limit (250 indoors, 500 outdoors) and the 6-foot distancing requirement may be relaxed, subject to 100% capacity limitation, if all attendees provide proof of full vaccination.
Effective May 31, the curfew is lifted for all events.
Office Settings
Office capacity is now 75%.
Effective May 19, office capacity will increase to 100%.
Retail Stores, Museums, Gyms/Fitness Centers, Personal Care Services and Other Commercial Settings
Effective May 19, capacity will increase to 100% at retail establishments, museums, gyms and fitness centers, amusement and family entertainment venues (including theaters, but not stadiums and arenas), hair salons, barber shops and other personal care services establishments, and most other commercial settings.
Though most theaters can reopen at 100% capacity on May 19, Broadway theaters will officially reopen at 100% capacity on September 14.
If you have any specific questions relating to mask policies for your business, or would like a written mask policy prepared for your business, please contact us at 631-777-2401 ext. 22 or jse@selawny.com.