2021 EMPLOYMENT LAW UPDATE
MINIMUM WAGE INCREASE
Effective December 31, 2020, New York State minimum wage has increased once again. The present minimum wages are as follows:
• New York City                            $15.00 per hour
• Long Island and Westchester    $14.00 per hour
• Rest of New York State              $12.50 per hour
Wages will increase again in 2022 and thereafter until minimum wage statewide reaches $15 per hour.
NEW YORK STATE PAID LEAVE
In 2019, New York State implemented Paid Leave for employees for certain situations, such as the birth of a child and the care of a loved one under specific circumstances. A portion of the employee's wages are deducted to pay the insurance premiums for the Paid Leave. If an employee has a claim for Paid Leave, they are required to submit a claim with the employer's insurer, which in turn pays the employee directly. The employee is required to grant said leave and job security thereafter. For 2021, the benefits are as follows:
• Employees can receive 67% of their wages, up to $971.61 per week;
• The employee can take leave for up to 12 weeks.
This is the maximum benefit the employee can receive.
NEW YORK STATE EXPANDS PAID SICK LEAVE FOR 2021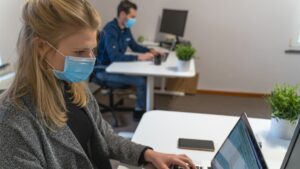 In March 2020, New York State greatly expanded their Paid Sick Leave laws relative to Covid-19. The State also expanded Paid Sick Leave benefits generally for 2021. The new laws created a great deal of uncertainty for employers that were unsure when employees were entitled to paid leave and for how long, and whether they would be paid by the employer directly or by their Paid Leave insurer.
New York State has recently expanded, and in some ways clarified the employer's requirements relative to Paid Sick Leave for 2021.
1.   Employees that are subject to a mandatory order of quarantine or isolation do NOT need to be tested before returning to work after their period of quarantine has expired. But if an employee does get tested, and tests positive, they cannot return to work. If an employee is or remains out of work as a result of a positive test, they are under an Order of Quarantine and are entitled to Paid Sick Leave for this entire period, even if they previously received Paid Sick Leave. Medical documentation must be submitted to receive Paid Sick Leave, as same is paid by the employer's insurer. As such, if the employee has remained out of work for the mandatory period and is symptom free, the employer should not require them to get tested before returning to work.
2.   If an employer mandates that an employee remain out of work based upon an exposure to Covid-19, but that employee is not subject to an Order of Quarantine, the employer must pay the employee their full wages for the period that they are requested to remain out of work. Notably, the wage will be paid directly by the employer, as Paid Leave insurance will not cover this employee. The Department of Labor has not specifically addressed whether the employee must use paid time off for this time out of work. We anticipate that the State will update its regulations in the near future. Of note, presently the CDC is recommending that people that are directly exposed to Covid-19 should quarantine for 7 days with a negative test or 10 days without a test, both assuming that the party has no symptoms.
3.   If the employee is requested to remain out of work based upon an exposure to Covid-19, the employer can mandate that the employee work from home. If the employee refuses, the employer is not obligated to pay them.
THRESHOLD FOR EMPLOYEE EXEMPT STATUS
In order for an employee to be exempt from overtime compensation, they must meet both a "duties" test and a "salary threshold" test. If BOTH are not met, the employee must be paid an hourly wage and overtime at time and ½ for work over 40 hours per week. In 2021, the salary threshold is as follows:
• New York City                                $1,125.00 per week           $58,500 annually
• Long Island and Westchester        $1,050.00 per week           $54,600 annually
• Rest of New York State                     $937.50 per week           $48,750 annually
NEW YORK STATE PAID TIME OFF
As part of its first Covid relief bill, New York State passed a permanent Paid Time Off law. The law requires all employers to provide their employees with 5 paid days off, in the form of sick leave. These days are accrued per hour of work over the course of the year. If an employee is already provided paid time off, this law does not require the employers to add additional days off. This law is only relevant for employers that provide less than 5 paid days off per year.
NEW YORK STATE PAID TIME OFF/COVID-19
The New York State Department of Labor has issued directives relative to required paid leave pertaining to Covid-19. If an employee has an "Order of Quarantine" which is issued by a medical professional, or State or local government, the employee can seek paid leave through the insurer. An Order of Quarantine is generally only obtained if the employee has received a positive Covid-19 test. Employees can qualify for paid leave for up to 3 Orders of Quarantine.
If an employee comes in close contact with someone that tests positive for Covd-19, whether at or outside of the workplace, they must quarantine for a specific time frame. This alone will not qualify as or for an Order of Quarantine, and thus they will not be able to receive wages through the insurer. Instead, the Department of Labor has stated that the employer must provide paid time off to their employees during this quarantine period. What is uncertain is whether the employer can require the employee to exhaust their paid time off during this period.
New York State labor and employment laws are constantly changing. If you need assistance navigating these rules and laws to ensure compliance, we are happy to assist. Please reach out to Jeff Ettenger at jse@selawny.com or 631-777-2401 x22