BEYOND THE LOT (APRIL 2022): ARE OEM VEHICLE ALLOCATIONS IMPACTING YOUR SALES PERFORMANCE OBJECTIVES?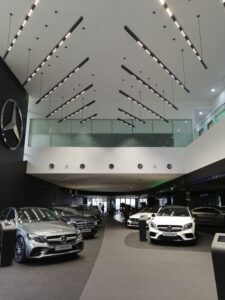 As we head into the second quarter of 2022, the impact of chip shortages on vehicle supplies has not subsided.  As a result, many more dealers are facing a steeper challenge of meeting OEM sale metrics than at any time prior to the pandemic.
Even before the pandemic, franchised dealers have called out factories that demand they put in sales performance above the average of their in-state peers.  This factory expectation is problematic, as it means that 1 in every 2 dealers in every state will be sales deficient each month, no matter how well they are performing.  Even if a dealer has increased its sales each month or year over year, if it performs at less than the statewide average for vehicles sold among same-brand dealers, that dealer gets a dreaded performance letter putting them on notice for this "sales deficiency." Such unreasonable treatment of dealers by OEMs is like a teacher giving half of their students a passing grade and failing the rest if they do not meet the class's average score on a test.
Too many of these letters can put a dealer into a difficult position – at best, these performance issues can prevent a dealer from receiving discretionary assistance from their OEM or it can prevent a succession plan from being approved by the OEM.  At worst, an OEM can use these deficiencies as evidence that a dealer is breaching their sales and service agreement, putting their dealership on the path to franchise termination. This last scenario is no idle threat, as I have personally worked with several dealerships in this predicament.
How to Address Sales Deficiency Notices:
The first step is to make a written response back to the OEM.  It is not enough to complain verbally to a zone manager, who may offer a sympathetic ear but have little discretion to change the factory's position on this issue.  With a written response, a dealer can make sure that their objections are on record for a court to see if the dealer seeks to adjudicate the dispute.  All too often, dealers who have been terminated lack a written record of objections, and the factory characterizes the dealer in court as lacking interest in performing its sales obligations.
What is said in a dealer's response is also important.  The most important response is for dealers to attack the use by factories of state averages to measure sales performance.  For many states, including New York, Illinois, Ohio, Florida, Maryland and California, such comparisons are not allowed under state law, whether under specific statutes or through case law.  For instance, the New York State Court of Appeals found in Beck Chevrolet Co. v. General Motors, LLC that "The New York Franchised Motor Vehicle Dealer Act prohibits the "use of standards not based in fact or responsive to market forces because performance benchmarks that reflect a market different from the dealer's sales area cannot be reasonable or fair."
Cases like Beck and similar cases in California have allowed dealers nationwide to also supplement their responses to OEM deficiency claims by demonstrating how unique local factors have contributed to a dealer's specific sales performance.  The biggest local factor is typically the discrepancies that are seen in new vehicle inventory between local same-brand dealers.  Anecdotally, we have seen several instances where a dealer has struggled to meet OEM sales performance targets because competing dealerships have "pumped in" sales into the dealer's assigned territory because they have hundreds more vehicles in inventory than the struggling dealer. In many of these examples, a factory's denial of sufficient allocation to the "underperforming" dealer may have had a significant role in its sales metric deficiencies.
With the latest inventory shortages due to lagging chip production and other supply chain issues, these inventory discrepancies have become more acute.  This is especially the case when a dealer does not get certain fast-selling models or vehicles with special packages that are in demand with customers, but a dealership nearby continuously gets these vehicles and to sustain its competitive advantage against other struggling dealerships.  In many states (e.g., New York and Illinois) such allocation discrepancies are not just bad business for OEMs, they can become the basis for a legal claim against OEMs by their dealers if not addressed in a timely manner.
While there is never a silver bullet in staying compliant with OEM sales performance targets or avoiding a related franchise termination, dealers can use written responses to OEM sales deficiency notices, carefully ghost written by their legal counsel, as an effective tool in their strategy to address these deficiencies, improve their vehicle allocations and stay competitive.
Mr. Timson is an experienced attorney focused on franchised automobile dealerships. He is a member of the Greater New York Auto Dealers Association and the National Association of Dealer Counsel.  He can be reached at ket@selawny.com or 631-777-2401 extension 32.