BEYOND THE LOT (FEBRUARY 2023): TOP 10 EMPLOYEE RELATED ISSUES FACING CAR DEALERSHIPS
As car dealerships continue to evolve and grow during this time of flux related to technology advancements, supply chain issues and the effects of the COVID pandemic, Schwartz Ettenger has identified numerous employee-related issues that we recommend addressing now to ensure continued success of your dealership(s).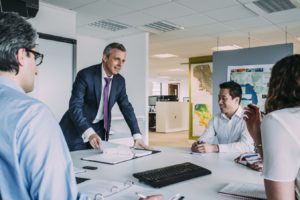 The top ten employee-related issues facing car dealers today include:
Recruiting and Retaining Talent: Car dealerships are facing a unique challenge when it comes to recruiting and retaining top talent. With rapid changes in technology and customer preferences, car dealerships need to be able to attract and retain talented employees who will help them stay competitive.
Workplace Safety: Workplace safety is an ongoing issue for car dealerships, as they need to ensure a safe environment for both employees and customers. This includes providing adequate safety training, equipment and processes to lessen the risk of injury or illness in the workplace.
Training and Development: With the changing landscape of car dealerships, it is important that employees keep up to date on the latest technology and customer service techniques. Car dealerships should invest in training and development programs to ensure their employees are prepared to satisfy customer needs and remain competitive.
Schwartz Ettenger provides New York State mandatory sexual harassment training to prevent harassment in the workplace.  Every business, no matter how big or how small, must educate all their employees annually in order to comply, and take other actions required by the NYS laws. To contact about such training, click here).
Employee Pay and Benefits: It is essential for Car dealerships to review their pay and benefits packages regularly to ensure they are competitive with other industries. This includes competitive salaries, bonuses and benefits such as health insurance, paid time off and 401(k) plans.
Work/Life Balance: Car dealerships need to recognize the importance of maintaining a good work/life balance for their employees. This includes paid vacation time and other work/life balance initiatives that will help employees remain productive and engaged.
Performance Reviews: Performance reviews are an essential part of any successful car dealership, as they allow managers to assess employee performance and provide feedback and guidance. Car dealerships should have an effective performance review process in place that includes regular feedback.
Job Security: Car dealerships need to provide job security for their employees so that they can feel secure in their positions. This includes providing stability in terms of job roles and responsibilities, as well as providing a clear career path for employees.
Diversity and Inclusion: Car dealerships need to promote diversity and inclusion in their workforce to benefit from different perspectives and experiences. This includes making sure that hiring and promotion decisions are based on qualifications rather than race, gender or other inappropriate factors.
Employee Engagement: Employee engagement is key to a successful car dealership. Car dealerships should invest in employee engagement initiatives such as recognition programs, team-building activities and other activities that will foster a sense of connection and commitment among employees.
Workplace Culture: A positive workplace culture is essential for car dealerships to succeed. This includes promoting fairness, respect and collaboration, as well as creating an environment of open communication and feedback.
The attorneys at Schwartz Ettenger advise their car dealership clients on the various legal issues they may face as they navigate these top ten employee-related issues today – to ensure a successful and productive workforce that will continue to help them remain competitive in this rapidly changing market.
In addition to these employment related issues that are unique to the industry, Schwartz Ettenger can also assist car dealerships with:
Dealership Buy/Sell Transactions
Real Estate Leasing, Purchase and Sale Transactions
Factory Deficiency Letters
Dealership Succession Planning and Estate Planning
Labor and Employment
Commercial Litigation
And much more