IS COVID OVER? WHAT SHOULD YOU DO TO SHIFT TOWARD A POST-COVID WORKPLACE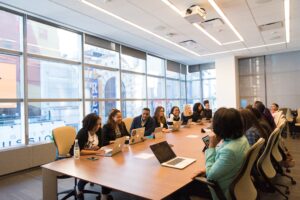 The last 2 years have been a complete roller coaster for employers.  The landscape and legal regulations have changed dozens of times. These changes have required employers to constantly shift their workplace to accommodate these rules and to protect their employees.  So the big question now is, is it over?  And if it is, what do I do now?
COVID IS NOT OVER
We have seen this before; things settle, numbers decrease and we all feel like this pandemic will soon be behind us.  But then something changes, a new variant, an unexpected spike and we must start all over again.  Employers cannot get complacent.  When things change we must be willing and able to adjust.  Employers need to think ahead and have comprehensive plans in place for mask mandates, work from home policies and other necessary safety protocols to protect their employees and their business.  You should be prepared for any contingency, which will allow you to handle the changing landscape with minimal business disruption.
THE RULES AND REGULATIONS STILL APPLY
Federal, State and local regulations have changed so frequently for the past 2 years it has been near impossible for employers like you to keep track, even if you are actively attempting to stay current.  Though some regulations have been altered/loosened such as mask mandates, others have not.  Employers assume that because things have improved, that they are no longer obligated to follow laws that previously were passed.  This is just not accurate.  Employees are still getting Covid, in some areas vaccinations remain a requirement for employment, and other regulations exist to protect the health and welfare of your employees.  You need to stay educated to both protect your staff and ensure you do not subject yourself to fines and penalties.
It is also critical to note that you are free to create rules that are not necessarily required by the government.  If you want all of your employees to be vaccinated to remain employed, or you want to require masks in common areas, you are permitted to do so.  Just because a government agency has loosened restrictions does not mean you must do the same.
MY EMPLOYEES REALLY LIKE WORKING FROM HOME
For years, many employers were reluctant to allow employees to work from home, fearing lack of productivity.  Then Covid hit, and employers were forced to alter their policies to stay afloat.  Most employees simply loved the flexibility of working from home.  Many thrived, but some simply did not.  Now employers like you need to decide how best to move forward.  And employees may push back, not wanting to give up the flexibility they have become used to.
As an employer, you are still permitted to dictate the terms and conditions of your employee's workplace but must do so in a non-discriminatory manner.  If you pick and choose which employees can work from home, it can create issues.  You must be mindful of this and navigate these decisions accordingly.
We all hope that society has entered a new phase and we can all get back to business as usual.  But until that happens, employers simply must stay on top of the Covid related issues and be willing and able to make appropriate decisions for their staff and company.
If you have questions on how to navigate these challenges, please contact Jeffrey Ettenger at 631-777-2401 ext. 22 or jse@selawny.com.